Crude Oil Trade: Ecuadorian Exports Reach Record Low in October Amid Protests, but Set to Quickly Recover
October 22: Ecuador's crude oil exports reached a new record low in October. Average volumes loaded on tankers since early October currently stand below 300,000 b/d. However, the country is now recovering after massive protests which have had a huge impact on the local oil industry. Loadings over the next couple of weeks will increase rapidly, as the country is now focusing on rescheduling exports that were earlier suspended.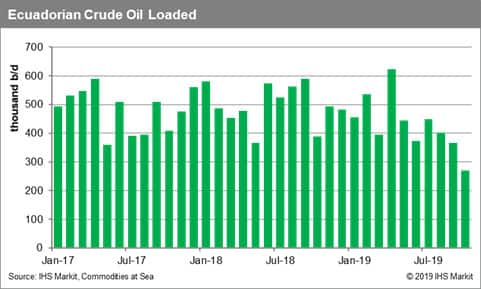 In an effort to get a loan of USD 2.4 billion from the International Monetary Fund (IMF), Quito planned to implement austerity measures to reduce its fiscal deficit, including the removal of fuel subsidies which caused a massive spike in local prices. Due to the protests that followed, primarily by farmers, state oil companies were forced to shut down production at 20 fields since early October. Exports were suspended, with total losses having reached 1.5 million barrels of oil production during the first half of the month. Protesters occupied some fields until 13th October, when the country's government withdrew the subsidy removal. Repairing damages to production infrastructure caused during the protests will cost USD 48 million, according to estimates by state-owned Petroamazonas.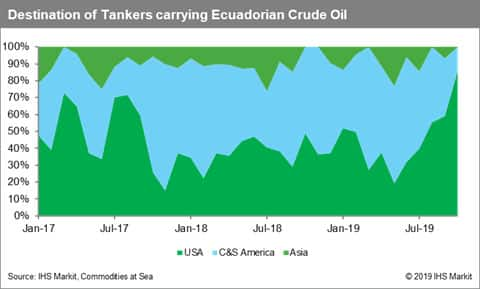 Ecuador, a member of OPEC plans to leave the cartel next January to boost its production of crude oil, to strengthen its revenues. The country's production stands close to 550,000 b/d, with shipments having been on average close to 430,000 b/d, according to IHS Markit Commodities at Sea. Ecuador's reserves have been estimated at 8.27 billion barrels. The USA continues to absorb most Andean exports, with flows close to 200,000 b/d not affected during the month. Meanwhile, the market shares of Central and South America and Asia dropped to historical low levels.
Ecuadorian crude oil is primarily carried by Aframaxes, which have a market share of around 40% since early 2019, while larger tankers (VLCC and Suezmax) have loaded around 33% of the country's exports. The rest has been loaded on Panamax and smaller tankers.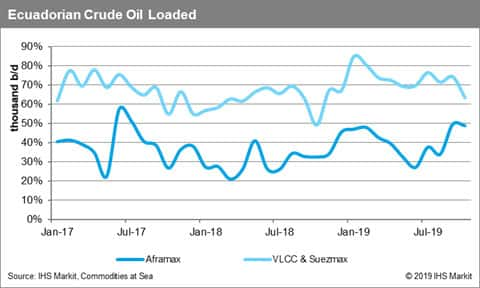 Source: IHS Markit / Fotios Katsoulas